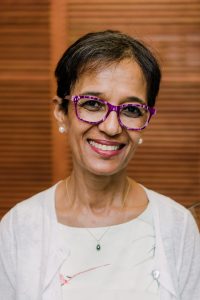 Associate Professor of Visual Arts 
Guenet Abraham is a design professional and associate professor in the Visual Arts Department. She is a recent recipient of two consecutive Fulbright fellowships (2017 and 2019) for Teaching and Research at the Alle School of Fine Arts and Design in Addis Ababa, Ethiopia. While in Ethiopia, she was awarded two grants from the US. Embassy in Addis; a travel grant to attend the 2018 Paris Photo-Aperture, where the book she designed, Hidden Mother by Laura Larson, and published by Saint Lucy Books was selected for a traveling exhibition. She also received funding for a collaborative site-specific art project at the National Library, https://www.youtube.com/watch?v=X5V4Nx-lJyU&feature=share&fbclid=IwAR2_shlx_lRLyvPjEDfCocgPoPmMPNhzpYOia-9EF5oF-jHtZxPuR1gNENg
She continues to collaborate with her host institution in Ethiopia.
In 2020 she proposed and submitted artist drawings to establish the first national museum featuring modern and contemporary Ethiopian art and artists to the Prime minister's office in Ethiopia. The Proposal was well received, and the museum, Entoto Fine Arts Gallery, was built fully funded by the national government of Ethiopia. The museum was inaugurated in October of 2020.
Presently, she collaborates with CADVC to create the first traveling exhibition at the newly opened gallery in Ethiopia.
In addition to her teaching and international projects, her studio design work focuses on books design projects. She recently received recognition for her book design work for Saint Lucy Books, Running Falling Flying Crawling, and The Museum of The Old Colony, CADVC. She continues to work with the above two institutions on upcoming art and photography book publications.