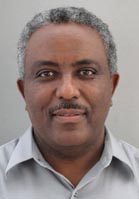 Professor of Physics
Director of UMBC's Joint Center for Earth Science and Technology (JCET)
Research focus is on Atmospheric Instrumentation and Observation and Climate studies. Chaired the Committee for Atmospheric LIDAR Application Studies (CLAS) for the American Meteorological Society; is a member of the Atmospheric Observation Panel for Climate (AOPC) Working Group on GRUAN (WG-GRUAN) and is a member of the Scientific and Technical Working Group; Maryland Climate Change Commission. Served as Associate Editor for the Journal of Geophysical Research, Earthzine and others. Active in organizing national and international research field observations including WAter Vapor Experiment-Satellite (WAVES 2007); International H 2 O Project (IHOP2002), Plains Elevated Convection At Night (PECAN 2015) and numerous other experiments across the United States. He has organized national and international conferences and symposia for AMS, GRUAN Implementation meetings, "climate communications" workshop at UMBC, major field experiments (IHOP, PECAN, etc), and lectured in AMS short-courses. Member of UMBC's Black Faculty Committee. Enjoys teaching cloud and aerosol physics, analytical mechanics, instrumentation, and climate policy classes.