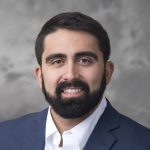 Dr. Fernando Tormos-Aponte
Public Policy
Dr. Fernando Tormos-Aponte is a Postdoctoral Research Associate at the University of Maryland—Baltimore County School of Public Policy and Department of Political Science, a Research Fellow of the Southern Methodist University Latino Center for Leadership Development, and a Visiting Scholar at the Johns Hopkins University Department of Political Science. He earned his MA and PhD in political science from Purdue University, and a BA from the University of Puerto Rico, Río Piedras. Dr. Tormos-Aponte's research focuses on how social movements overcome internal divisions and gain political influence. Tormos-Aponte's work has appeared in Politics, Groups, and Identities, Environmental Policy and Governance, Alternautas, PS – Political Science & Politics, and in the edited volumes The Legacy of Second-Wave Feminism in American Politics and Gendered Mobilization and Intersectional Challenges.
Dr. Blake Francis
Philosophy
Dr. Blake Francis is an ethicist and political philosopher, working to shape a better picture of the moral landscape of climate change. Should nations be held responsible for their emissions? Should major emitters of greenhouse gases make reparations for their actions? In his dissertation,  "Wrongful Harm by Emitting: Individual and Collective Agents in the Context of Climate Change," Blake argues that by emitting greenhouse gases some nations do wrongful harm that they ought to be held accountable for. In his current research, he considers the question of when nations' emissions are morally justified. He is working to develop a moral framework for comparing the harmful effects of anthropogenic climate change with the benefits of current energy systems. Blake earned his Ph.D. in Philosophy from Stanford University. He has degrees in philosophy from Northern Arizona University (BA) and University of Montana (MA), where he also studied Forestry and Conservation. Before graduate school, Blake worked in wilderness management and trail construction with the US Forest Service in Arizona and Alaska.
Dr. Emily Perez
English 
Dr. Emily Yoon Perez earned her Ph.D. in English from the University of Maryland, College Park. She earned her M.A. in Humanities with a concentration in Literary Studies from the University of Texas at Dallas and her B.A. in English from Johns Hopkins University. Her research investigates transnational formations of race as represented in minority U.S. literatures, expanding the scope of American literature and American understandings of race from the national to the global. Her book project focuses on the migrations and intimacies of minority subjects, bringing together transnational literary studies, comparative racialization studies, postcolonial theory, and ethnic studies.